Pomade is used as a hair product for men and women.  Pomade is a better formula than gel or hair spray.
A lot more about what is pomade used for below.
It is time to ditch those nasty hair products you use.  I am talking about hairspray and gels.  Those just will not do the job anymore.
Pomade can be categorized into two categories, oil, and water-based pomade.  What is the difference between the two?
Oil-based Pomade – Traditional with fewer ingredients.  The advantages to an oil-base are it will not dry out. Looking for slick-shine to last all day, go with oil. A disadvantage would be, you could break out with acne on your forehead.  Just be sure to keep it off, and you will be fine. If you are one of those people, who like to hit the gym during the day or other sweaty activities, use an oil-base.
Water-based Pomade – Will wash or dry out during the day. The beautiful thing is, with a little more water, you can re-do your hair. There are several advantages to using water, and most importantly to consider is your skin. A few chemicals are used to create these products, but don't let that scare you off, water-based is the way to go to give you a great hair-style.
It is simple, the oil will be more substantial and last longer, and water will eventually dry out, causing you to re-apply.
Here are my recommendations

In some cases, thick hair can be a problem as it is for me.  I tend to go with a product that is easy to put in and will hold the longest.  The smell is also essential, so If it does not smell good, I will not use it!
Getting the right kind of product for your hair can be confusing.  However, I am here to assure you; this article can help.
Let's go over some things before you jump in and buy your first tin of pomade.
What is pomade used for?
Pomade is used as a men's and women's styling product.  It holds your hair in place, but not glued down.  If your hair were to move naturally it would settle back into place.
It also smells great and gives your hair a nice shine or matte to it.
I used to use gel and hairspray to tame my thick hair.  It worked for keeping your hair in place, but that was a bit like using glue.  Moreover, it is evident from looking at and touching it.  It was glued down!
Then one day I discovered pomade.
I have not looked back since then.  The only changes I have made now are trying new brands and see what works the best for my hair.
Moreover, that leads me to bring up your type of hair.  This is the starting point for
1. Different types of hair, what is yours?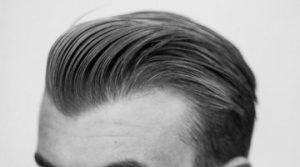 Hair and pomade work together very well, but depending on your type of hair, you might need to try oil-based or water-based.
Moreover, from there, you may want to look at a few other fresh options.
So let me just go over some hair types, and you can find what is yours and where to go from there.
Short Hair – Probably the easiest to maintain, and the easiest to comb into place.  A water-based pomade will work for your short hair very well. Use a small amount until you get your desired look and hold.
Straight Hair – Another natural way to maintain a hair type that would work well with a water-based kind like Layrite or Suavecito.Like I mentioned above, start with a small amount, work into both hands, and then apply all over your head. Use a good comb, and slowly style to your desired look.  Maybe it's a pompadour?  Alternatively, something like Elvis and how he designed his hair with pomade.
Thick Hair – Here is where we need to step up to some stronger hold product. I have thick hair, and I like to keep my hair on hold. Hair has a mind of its own.
My recommendation is to try water-based and oil-based, just to see what will work for you. It is not necessary, a good stronghold water-based will do the job, but it will not hurt to try both. Using pomade to keep thick hair in place is the way to go.  Or try [amazon_textlink asin='B017S3LX8O' text='Suavecito stronghold' template='ProductLink' store='hairyfoo-20′ marketplace='US' link_id='2b59412a-f760-11e7-9367-6b18dc756ddf'].
Asian Hair – Also super thick and a category of its own, we have written an entire article for this type.  Or read the thick hair type right above this, pretty much the same thing.
Curly Hair – I feel your pain, trying to tame curly hair with pomade will work, but here is some excellent news. The moisture in the pomade will help keep the frizzy parts of your hair down while holding those curls in place. Whether you have long or curly hair, you may want to try wax or paste.
Thin Hair – You need to be careful with how pomade is applied. Even with thick hair, there is always a decent amount of hair that comes off in my hand after applying pomade. I started using a good comb and gently work it, this will save you some hairs!  I would go with a lite creamy pomade like old spice.  It is a nice smelling and easy to apply pomade. It is not sticky like a lot of pomades are.  Use a small amount and style with a comb.
2. How much pomade does your hair need?
Now that we have gone over your hair type let discuss the hold.
What I mean is, once the product is in, you will style it, and depending on your hair type, how well will your hair stays in place with the pomade in it?
The standard used widely is a medium hold water-based.
I find this is just about perfect; it is strong enough to hold in place for hours without leaving your head looking like someone just combed your hair with glue.  You know, that awful crunchy, wet look?
So with that in mind, if you need to upgrade something stronger.
Look for it on the can; it will say frime, stronghold, or something along those lines that mention it being a better hold.
3. Hair Styling Tips
Now that we got your hairy type down and strength, let's go over the actual pomade attributes.
By that I mean, what to look for when buying the product.  Here's what I like to use to come up with the pomade.
Smell – The scent is a big part of using this stuff.  When I twist open a new can, I usually take a look quickly and then immediately take a smell. Everybody has their preference so I cannot speak for you, but for me, I do not want something too powerful, like axe pomade. I like a lite smell that has a touch of sweetness, cologne and something natural like vanilla.  However, every can is different, and I have not met any too obscene ones yet.
Shine – Just like the hold, this also is a middle of the road, not too little and not too much shine. You can look for more if that is what you prefer.  Adding more pomade does add more shine also. If you are looking for a more natural look with a touch of shine, use a matte style.
Texture – Most people go for the textured hair look. Pomade works excellent for that while remaining a bit natural.  Pomade keeps those textures and layers held nicely. If you want more hair volume, you can try clay or wax with some light blow-drying.
Application – Worth mentioning is how well does it go into your hair. Some can be pretty sticky and be a real issue to apply.  Others work into your hair without any problems. So, if you read reviews, keep and I out for positives and negatives on the application.
Washing Out – The only problem I have had cleaning pomade out is when I used an oil-based. Moreover, you defiantly want that washed out before you go to bed or your pillows might get ruined! Water-based pomade is the opposite, I have no problems washing this out and never fear to go to bed with it in my hair.
These are some of the things I like to check off when reviewing pomade.
The most important attributes to me are the scent and the hold.  Then if they pass the test, I look onto the next, hold and then shine.
I do not worry too much about washing out since most water-based will quickly come off.
4. Pomade vs. Wax vs. Clay vs. Gel vs. Paste vs. Fiber, what the difference between them?
Knowing a lot more about pomade you will now probably want to know what the difference between some of the other products in the same market is.
We have written a great article about the difference in products, POMADE VS THE REST! (CLAY, FIBER, WAX, GEL, & PASTE)check it out.
How to apply pomade?
Applying can depend on your hair type and how you want it to look when finished.
Wet hair – I find that having a damp head of hair, preferably 10 minutes out of the shower works the best.
Moreover, that is because pomade works the moisture works with the product and in a way thins it out, making it easier to apply all over.
You will want to take a scoop and rub it in both hands, then mess your hair up with those hands.
Getting it in there is the first goal.  Once it is in, you can start to style.  If needed, apply more as you go along.
However, keep in mind that you want to rub it all over. Otherwise, you might have one or two spots that will look out of place.
Dry Hair – I personally do not like applying it to dry hair, but you certainly can.  You might suffer some random hair loss I have found out, the hard way!  However, it works well if you are going for a higher volume, textured look.
I do recommend always using a comb to get the product evenly in the hairs thoroughly.  Then, style away from that point.
PRO TIP:
Applying to wet hair – will give you a slicker semi-gloss look.
Applying to dry hair – will give you a more natural matte finish.
Now you have a good idea of how to use it, let's move on to which pomade you should buy.
Top 10 Reviews
Listed below are the Top 10 styling
Products used for all types of hair, curly, thin, thick, Oriental, short, and long hair.
You can buy some of the brands listed below at your local Walmart or Target, but most likely you will have to order online.
This is no problem and usually, shipping is free and delivered in two days.
1. SUAVECITO FIRME HOLD – OUR BEST POMADE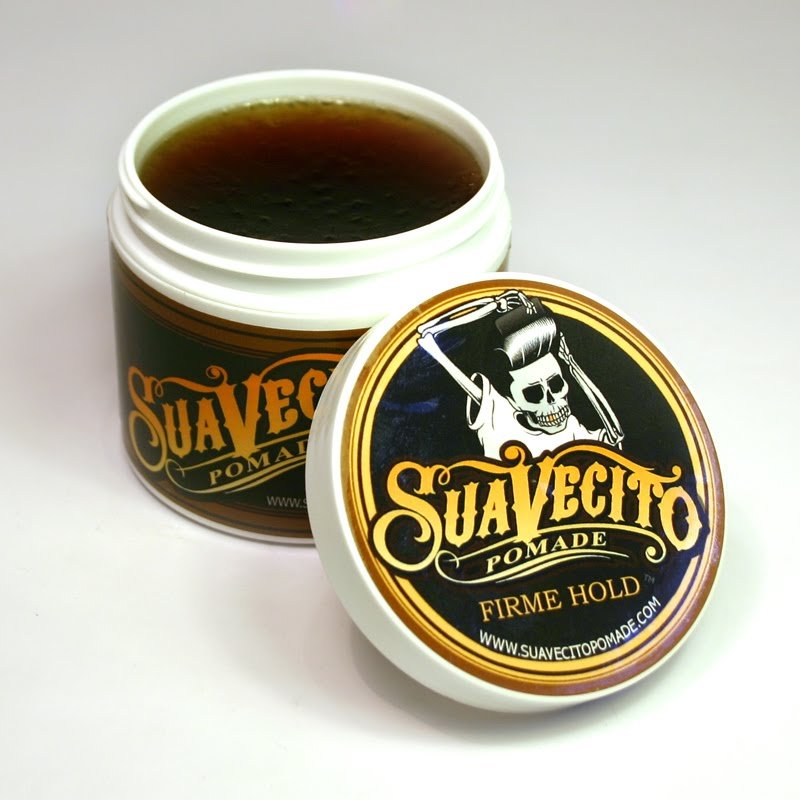 One of our favorites and quickly becoming everybody else's too! Established in southern California, Suavecito has grown a culture of pompadour and rockabilly, loyal fans.
However, they are more than that, Suavecito has taken on the entire barbershop industry adding some of the coolest grooming and beauty products for men and women.
Here is why their formula is the best.  It is water-based and provides one of the strongest holds without the crunch.  Keeps your hair in place throughout the entire day.  Super easy to wash out of your hair.  Being water-soluble, it just comes right out with water.  This is our #1 one seller.
We love the earthy natural smell of this, reminds of being in that old school barbershop your dad used to go to.
Sauvecito has a few different holds and styles; I recommend you check those out as well.
2. IMPERIAL BARBER GRADE CLASSIC
Here is a brand that was so confident their product was the best, they named it Imperial.  They are not wrong; this stuff is easily one of the best.
The Imperial Barbershop Grade Classic has an industrial-strength hold, sounds scary, but hear me out.  It is one of the most active holds for being a water-based product.  It does not matter if you want a tight, clean look, messy, or slicked back, use this for some of the best results.
Imperial goes on thick, but not to worry, it will not get flaky or hard when it drys.  It is the opposite; it will leave your hair moist and healthy-looking all day.  Moreover, best of all, it washes right out.
The scent is delightful, a very subtle sweet smell, a hint of watermelon I have been told.
If you have thick hair and are tired of using hairspray's and gels, this is a great option for you
3. AXE STYLING CLEAN CUT LOOK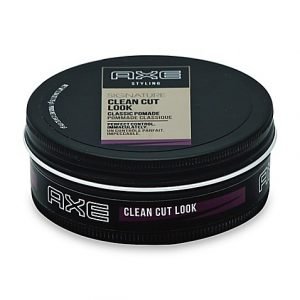 You have probably heard of Axe before, most likely on a TV commercial for shower gel.  I have been using their deodorant for a long time now.  However, it was not until I realized they also make hair styling products.  I loved the smell of their products so I thought I would give it a try.
Coming in an attractive black tin, the second thing you will notice is the smell.  It does have that familiar Axe scent.  Smell like a very nice cologne.  However, once it is in your hair, you barely will notice it.
However, aside from the nice smell, this has a solid hold that ranks up there with the best of them.  One thing I liked about Axe was how easy it was to apply to your hair, particularly when dry.  Overall, a great smell, the price is right and holds for hours.
[amazon_textlink asin='B00EV4HTPK' text='Axe is doing pomade right, have a look at what others think.' template='ProductLink' store='hairyfoo-20′ marketplace='US' link_id='9563b322-03f5-11e8-8a2f-87dfd8b0bdaa']
4. RHETT AND LINKS MYTHICAL POMADE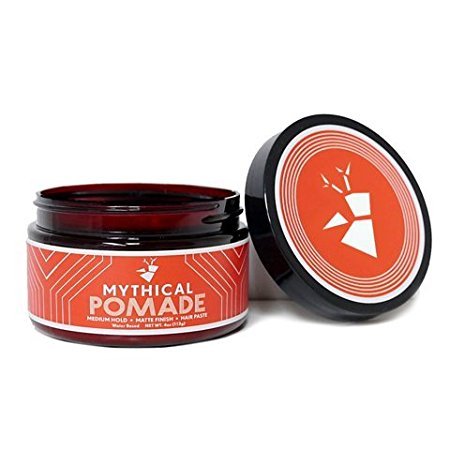 Racing to the top of the charts like a bullet is Mythical Pomade.  Here is a product that I know can tame your hair.  Mythical has gone up against the undefeated hair types like thick, wavy, curly, and even thin to balding scalps and won!
This might be the coolest stuff I have ever used.  No kidding, women have long curly hair too, this is a product your stylist will introduce you to in the salon.
Here is why many people like Mythical, it is easy to apply, gives you great hold, and leaves your hair feeling soft.  Of course, you have to add in the excellent lite clean earthy pine scent.  That is the formula; it is simple.
Another fun fact about Mythical Pomade is, this pomade uses organic ingredients.  And, it is made using the power of the sun, solar power!
This is a premium salon-style pomade.  I highly recommend giving Mythical I try, you might love it!
5. MANDOM GATSBY
Some of my friends introduced me to Mandom Gatsby.  My hair is very similar to thick hair, it is very thick and textures well.  The texture is the key here, and I believe that is the style Gatsby goes for.  They also have several waxes that are just as popular, but pomade is easier to use.
Once only available in Japan, you can now get this on Amazon.com, which is awesome!  The packaging might scare off some people off, but you have to take our word for it and 1000's of happy customers.
Gatsby is great for getting volume and texture.  You only need to use a little to style your hair.  This product works best for shorter, thick hair.  Longer will have trouble getting that volume.
Mandom Gatsby has a very subtle but sweet, apple scent.  The shine is a medium to none.
6. REUZEL (HOLLANDS FINEST)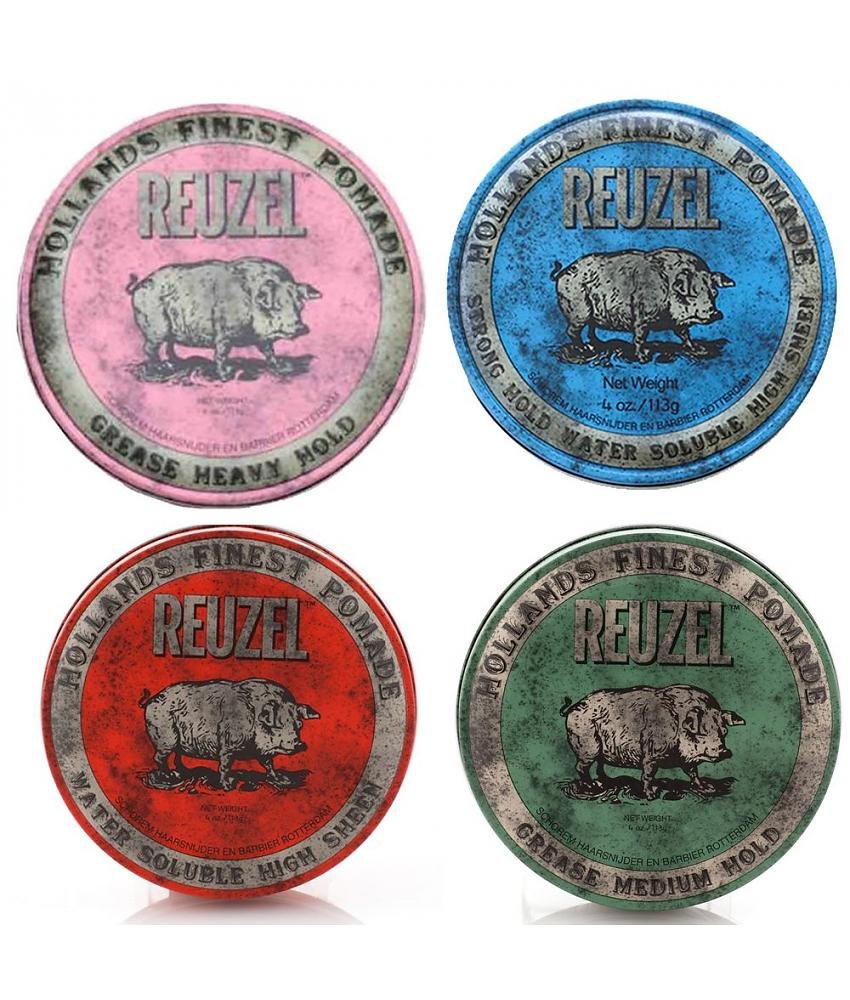 Gentlemen, this pomade was made for the dapper society, or as they call it Schorem. Created in Holland for their barbershop clients who were real lovers of styles like, quiffs, a pompadour, flattops, and fades.
Reuzel has created some of the world's most elegant formulas.  There are four different types of pomades easily categorized by the color of the tin they come in, what is the difference?
Reuzel Green – Wax and oil-based.  (Medium Hold)
Reuzel Pink –  Grease (Heavy Hold)
Reuzel Blue – Water Subtle (Strong Hold)
Reuzel Red – Water-based (Matte Finish, High Sheen)
As you can see, Reuzel has you covered for the strength and shine you are looking to achieve.  They take lots of pride in their products and the culture they have shaped.
7. LAYRITE ORIGINAL
Layrite is another company that is keeping the tradition that their grandfathers passed on to their dads.  The art of taking the time to look well-groomed, like a perfect gentleman.
Layrite started producing pomade in 1999 when founder Donnie Hawley was looking to make his clients look the best all day long.  As the story goes, the barbershop industry was dying, like many others.  So, you could say this was the beginning of the revolution for men's hair products that were once a product of the early 1900s.
They pride themselves on having the perfect product, one that applies easily, holds well, and smells fantastic all day long.  You get that with Layrite.
If you're just getting started and don't know which brand to choose, I would recommend Layrite.  Highly unlikely you will find this in stores, so you will have to [amazon_textlink asin='B01MA55K6I' text='check them out' template='ProductLink' store='hairyfoo-20′ marketplace='US' link_id='ffad5462-051d-11e8-a60f-99c4d9c1e7c1′] at Amazon.com.
8. SUAVE MEN STYLING POMADE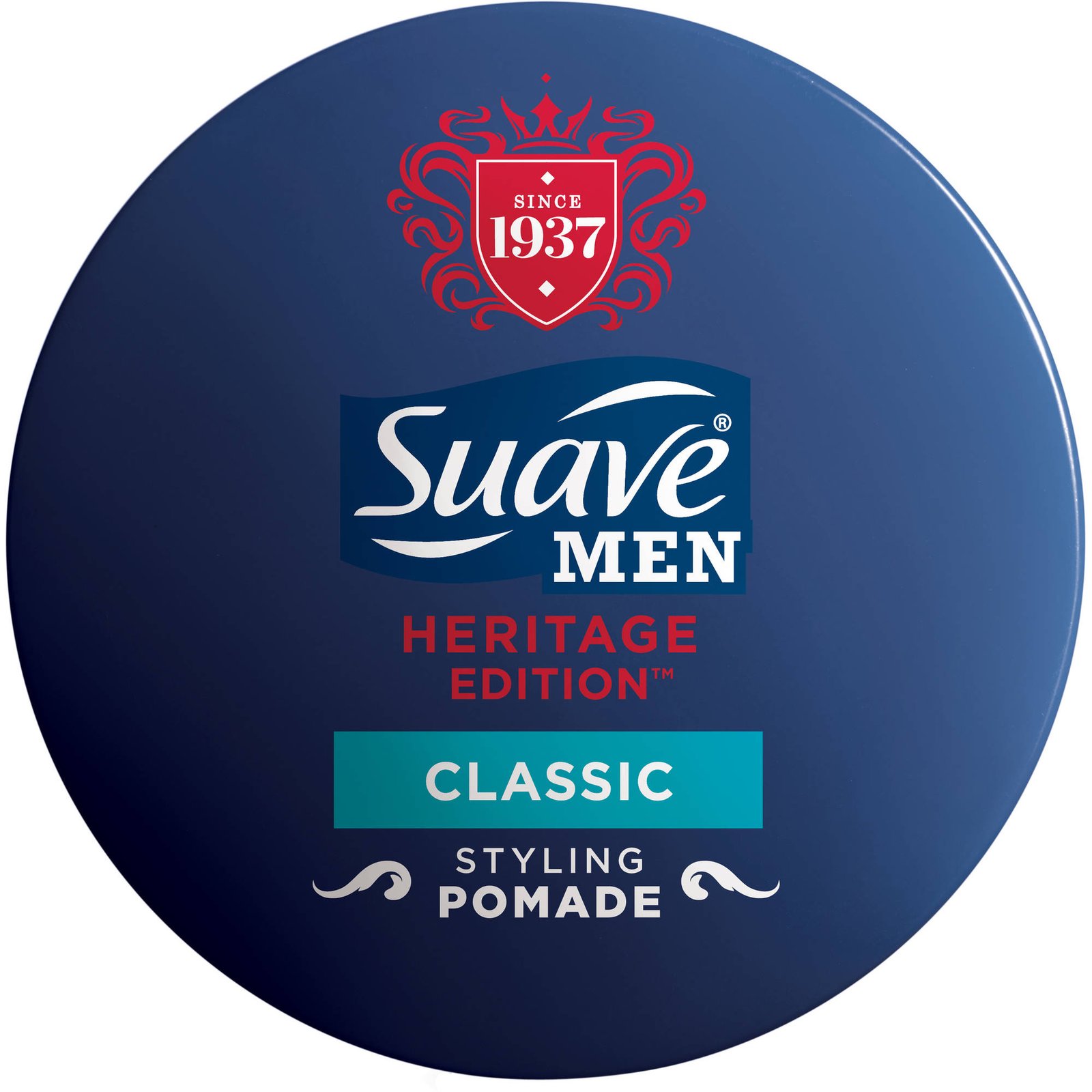 Like Axe, Sauve men have many products in the men's bathroom industry.  From soap and shampoo to deodorant and hair styling products.
Suave has been in business since 1937.  They have taken their old formula and modified it to suit the more modern hairstyles.  Staying with tradition, they are proud to represent the vintage formula that has made them so popular amongst pomp enthusiasts.
Applying to your hair is easy with this softly pliable pomade.  Molding into place and staying in place for hours even though it is water-based.  Using throughout the day will help, but don't worry, it washes out easily.
Suave heritage edition smells great; it's bold, but pleasant at the same time.  Overall, this is a nice product for around $10.
9. DAPPER DAN
It is funny when I think of Dapper Dan I think of the movie O'Brother Where Art Though.
George Clooney's character is obsessed with his hair!  As you can see he was rocking the slick back style, "I'm a dapper dan man!"  And to this day, this product is great for achieving such styles.
You get that old-timey feel when you see a can of Dapper Dan.  Using the same logo and likely the same tin mold is very appealing, and I knew I had to pick one up and see how it works.
My first impression was, wow, this has a delightful smell.  I can't put my finger on it, but it is a clean citric scent, really not bad at all.  At first, I used too much, and my hair seemed to have way too much shine.  In my second attempt, I only used a tiny dab, and that made a big difference.
Considering the small amount I used I was worried my hair wouldn't have any hold.  Here is the deal, the hold was pretty solid, I would say it is a stronger hold than the others, but still no crunch when it settles.   Overall, I'm happy.
Like several other bigger companies, they also make a variety of pomades to suit many needs.  I recommend giving this a try; you won't be disappointed in this nearly 100-year-old brand.
10. AMERICAN CREW – ELVIS POMADE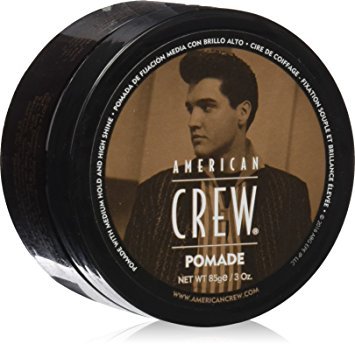 Did Elvis use American Crew?  Probably not, he was more of a Royal Crown guy, but that doesn't mean he doesn't embody the American hair culture he helped make famous.
The question is, would this live up to his high-performing standards?  We gave it a run, and below is our review.
I loved, they used Elvis on the container, but I was skeptical of the cost.  The price is around $3-5 more than the other brands, still very affordable and when you're not sure if you're going to love it, you hate to waste money.
American Crew does have some significant benefits.  Holds is strong, the smell is lite and decent, and overall has a medium shine.  Also worth mentioning, it is water-based, so it is much healthier for you.  It washes out easily with shampoo and water.
The product isn't sticky and does apply well to damp hair.  I have not tried it with just a dry head, but take my word for it, use it with a little water.
Overall, this product is excellent, 10 out of 10.  I recommended it for all types of hair, and especially if you want to look like Elvis and his pompadour!
Conclusion
I hope this article gives you a better idea of what pomade is used for?
We have tested a lot of products over the years, and indeed, we have our favorites.  We based this top 10 pomade list on your feedback as well.  It's been fun chatting and debating with you guys over at Reddit, the ones that work the best.
We mentioned the hair types, and what style of the product we recommend to you based on that.  We also recommend that no matter what kind of hair or which brand you go with, use a comb to apply the product evenly before styling.
And if this is your first time, any product you choose on this list is the absolute top of the line in the market.
Most importantly, throw your gel away and start using a product or two listed above.